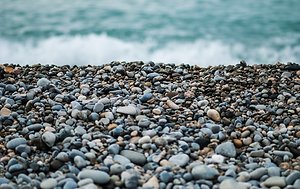 Reflexology & Reiki on the North Norfolk Coast
I'm Paula, a qualified Reflexologist and Reiki Practitioner who trained at the Jackie Hamilton School of Therapies in Norwich. I have a background in mental health and acute hospitals within the NHS, and at Adult Social Services working with vulnerable adults.

I practice Reflexology and Reiki at my treatment room in Bacton, 5-miles from the market town North Walsham - with additional practice in hormone balancing, energy work and linking. I am fully insured, first aid trained, and a full member of the Association of Reflexologists (AoR). This means that I have met the strictest standards for professional excellence in reflexology practice, and abide by the Association's Code of Practice and Ethics.

Reflexology is a complementary therapy for relaxation, release of tension, improved sleep, improved mood and increased wellbeing. Clients seek reflexology for many reasons; mainly for relaxation, to help manage stress, anxiety and pain. I could talk all day long about reflexology. I have regular treatments for pain management and many moons ago it helped manage my stress levels.

Wellbeing: "The state of feeling healthy and happy"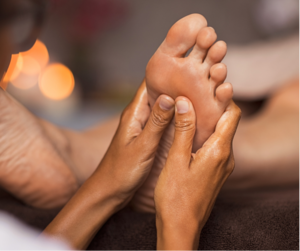 This Is My Story
Over 8 years ago I received some unexpected news at the pain management clinic. My MRI scan revealed I had severe arthritis in my shoulder. I was shocked and so was my consultant who only expected this wear and tear from someone twice my age. The only treatment offered was opioid pain medication and then 15 - 20 years down the line a possible shoulder replacement. The prospect of a life on opioids was not a permanent option for me so I started to explore other ways to manage my pain.

After a few years of research into alternative ways to manage my pain, and trying different therapies. I turned to reflexology and have never looked back. It helped manage my pain to the point I no longer needed painkillers, and had more movement than ever before. It also helped ease the mental health issues brought on by living with constant pain and the domino effect that pain can have on day to day life. I am proud to say I no longer take any medication for pain or mental health symptoms.

I was blown away by the power of reflexology and was inspired to train in the therapy in the hopes of helping others in similar situations.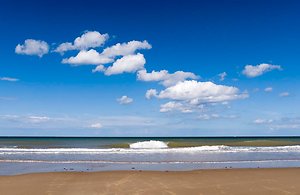 Location Location Location
Bacton is located on the sleepy North Norfolk coast. Sandwiched between Mundesley and Happisburgh and a 10-minute drive from North Walsham or Stalham and only 20-minutes from Cromer. Bacton's scenery provided me the inspiration to name my practice Coastal Reflexology, it's only a 5 minute walk to the beach and has some of the most amazing views where the sea meets the countryside. My treatment room overlooks open fields and is such a perfect spot to relax and unwind.

Whilst Bacton may offer an idilic landscape it is rural which means quiet lanes. I suggest if this is your first appointment to save my number in your mobile phone just in case you get lost on the country lanes of Bacton. When you arrive there is ample parking.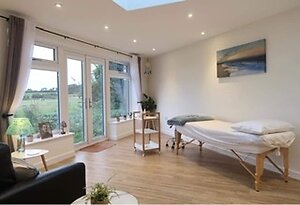 Appointments
Coastal Reflexology
Tel: 01692 651479 (24 hour business answer phone)
Mobile: 07980 560310 (call or text)
Join me on Facebook and Instagram

Bacton
Monday - Friday
9:30 am until 5:00 pm with 2 varying late nights
Church Road, Bacton,
North Walsham,
Norwich, Norfolk, NR12 0JP

Cancellation Policy

I require a minimum of 48 hours notice for the cancellation of an appointment, otherwise a fee may be charged.


Gift Vouchers Available
Buy an online gift card or receive a gift voucher by post. Contact me for more details.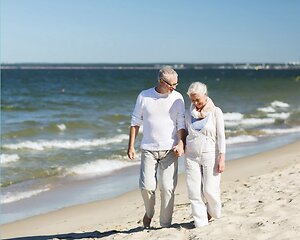 Healthcare Benefits Plan
Bupa, Paycare, Medicash, Sovereign, Simply Health, and Health Shield all cover Reflexology. Please check with your insurance provider for details.

A full receipt with my professional association membership number, the Association of Reflexologists (AoR) is provided so you can claim cash back.

Events
Emergency First Aid Trained

Wellbeing Events

Demonstrations

Residential Care Homes

Taster Sessions

Charity Events

Mental Health Awareness Events

Club or Association Events

Open Days

Festivals

Craft Fairs

Village Fairs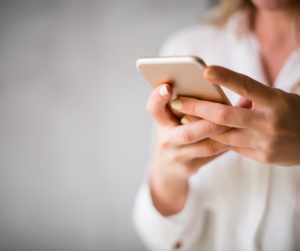 Contact Details
Message, email or call your Reflexologist & Reiki Practitioner for further details:

Tel: 01692 651479 (24 hour business answer phone)
Call or text: 07980 560310
Join me on Facebook and Instagram

Paula Holmes MAR
Reflexologist & Reiki Practitioner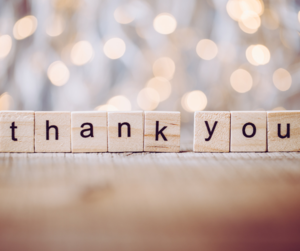 Testimonials
"I've been seeing Paula regularly for about three years. She is extremely professional yet warm and approachable. Her beautifully appointed new therapy studio is light and looks out over countryside. The perfect place for a relaxing and uplifting reflexology session." Steven - Google review
"My first experience of Reiki. Paula was considerate and kind. She explained the session and how to prepare. I had an amazing energy connection and felt revived. Paula then talked me through outcomes and supported with practical advice for post session. I will most definitely be exploring this again and I highly recommend coastal reflexology." Jen - Google review