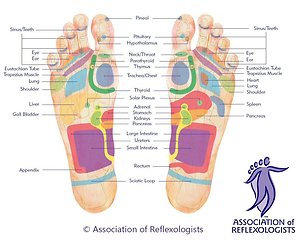 Reflexology
Reflexology is a wonderful complementary therapy that encourages the body to heal itself. It began over 5000 years ago in ancient Egypt. Advancements in research continue with many doctors now training in and understanding the benefits of Reflexology.

The theory is that reflex points on your feet relate to different parts of your body. You have over 7,200 nerve endings in your feet, which are stimulated through Reflexology by applying touch pressures. So you may come away feeling deeply relaxed, refreshed, energised, clear headed and positive all at once. The more stressed or "out of balance" you feel to start with, the bigger the change in you.

A quote from Oscar Wilde describes the feeling to a tee:

"But is it not sweet with nimble feet
to dance upon the air."